Cpanel Mail to Zoho Email Migration for Nepal's Leading Corporate House
Undoubtedly, email is an important communication and marketing tool for individuals and businesses. In 2022, the number of email users is predicted to exceed 3.2 billion. For many businesses, email has become one of the most important marketing tools.
Some email hosting services, such as Gmail and Yahoo Mail, are free to use, and many businesses rely on them to run their operations. Getting a free email web hosting service might be beneficial for a small business, but for mid-sized and larger organizations, free email services may not be adequate to boost their reputation.
An effective email hosting partner can boost your on-premise performance and customer interaction. Certainly, Zoho is one of the leading email service providers in the market with an awful lot of services like Calendar, CRM, notes, storage, and so on. Email is very important for collaborating with team members and customer support. Our client faced the email deliverability issue when they sent mail from an existing mail server hosted on the Roundcube shared mail server.
Challenges
When you use a shared hosting Cpanel to send the mail. Shared hosting shares the single IP to multiple domains. If one of the domains hosted on the same server sends the spam reflected all domains hosted on the same cPanel server, Maintaining the IP reputation and Spamhaus score hosted on the cPanel mail server is very difficult. It's very difficult to solve our clients' current email issue with my current provider.
Our Approach in Email Migration
We sit down with the client and collect their requirements after meeting with our client team members. We found that our client is looking for reliable email hosting services. Email hosting is a long-term subscription-based recurring expenditure for organizations. Email cost plays a vital role to choose the right email hosting services. Nepal is a developing country, and the cost of G-Suite and Microsoft 365 is quite high for Nepalese companies. So we recommend the Zoho mail hosting services. 
Solutions
We set up the domain on Zoho mail and migrated all the emails from Cpanel Roundcube mail to Zoho mail using the Zoho email migration tool. There may be a loss of email when we migrate mail during office hours. So we prefer nighttime to migrate emails from the old provider to Zoho Mail. First, we created the same user account from user management and updated the necessary changes on DNS records (TXT, MX, SPF & DMARC). There were a total of 22 users. It took only 3 hours to migrate all users' emails. 
Once the migration is completed, we forward the user's details and enable force password changes for all users. Some users prefer to use Microsoft Outlook instead of the Zoho desktop application. We also help make the necessary changes required to update and configure the Microsoft outlook setting to switch the IMAP/POP and SMTP settings.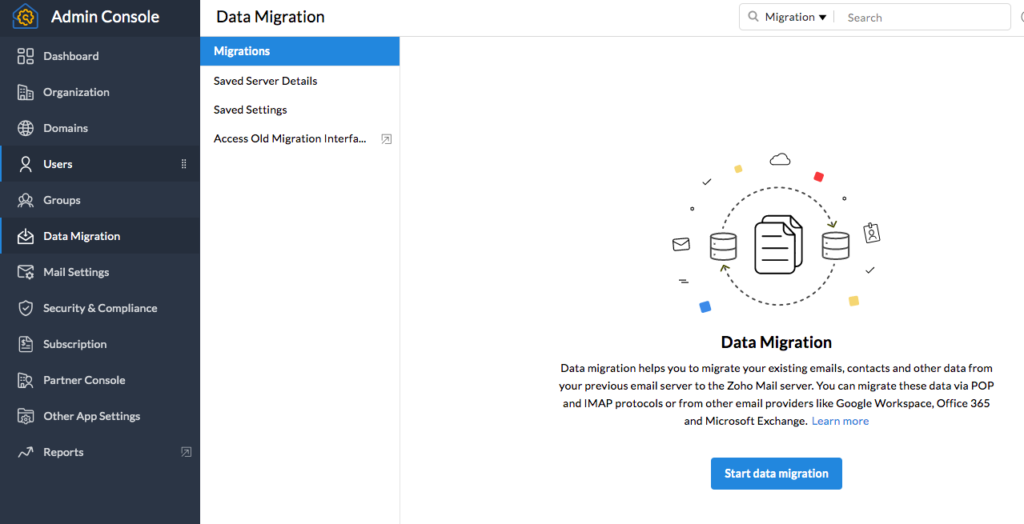 About Zoho mail
Zoho Mail is an online collaboration tool for business communication to power the modern workforce. It is a blend of the classic email and modern collaborative tools such as chats, feedback, likes, and sharing.
Conclusion
Through email migration and optimization through setting up popular mail provider Zoho mail, we helped our client for a better user experience for communication and collaboration. All emails are landed in the primary inbox. Now they are happy with current mail services. Your organization can also improve the communication and customer support experience using Zoho mail hosting with cloudlaya.com. Cloudlaya LLC is a leading authorized Zoho workspace partner. Contact us today for email hosting services and email migration services in Nepal.